Allegra believes that the true power of branding comes from a deep understanding of your business: its strengths, mission, vision, and target market. By delving into these concepts, a clear and consistent message will emerge and will be disseminated to your audience using a variety of platforms and channels.
Your Solution
Our goal is to develop a clear and concise logo that supports brand growth and creates recognition across social and real-world platforms. The logo will be the door that will help you connect with your customers and communicate your brand effectively.
The Benefits
Here are a few key reasons why you'd benefit from partnering with us:
We keep you involved at every step of the process. This improves results and makes the entire project easier.
Your logo will be entirely original, crafted by an experienced logo designer, and be more than a flashy graphic — it will be a powerful, visual manifestation of your brand's identity.
Our staff will communicate with you in a prompt, professional manner throughout the project.
Brand Development
Your logo is a key pillar of your company's identity, and the process through which it is created and refined is important to your long-term success. We see a lot of competitors who ask a handful of questions before disappearing for a period of time, returning with a logo and an invoice. We prefer to take a more collaborative approach that keeps you involved at every stage.
Here's what to expect:
Understanding You
Your logo should communicate both who and what you are. We begin every logo design project with a client interview, during which we'll build an understanding of the tangible and intangible things that make your company and team unique.
Concept
Before we draw a single line, we take everything we learned in our discussion with you and think about the best way to communicate who you are and what your company stands for. This will allow us to develop a few high-quality concepts that meet your expectations.
Review & Revise
This is your chance to weigh in. Take a look and see what we've come up and measure it against your vision of your company brand. You will provide us with feedback on font choice, color, style, etc. and we will rework one or two of the concepts.
Delivery
Once we've crafted a logo design that you're happy with, we'll provide you with all of the digital files you'll need to put the logo to good use, as well as a release granting you sole ownership of your new company logo.
What You Get
3 to 5 concepts
All formats | Source Files (AI, EPS, PDF, etc.)
Files for web and print (RGB and CMYK)
Logo in color and black & white
Includes up to 3 rounds of revisions (Additional revisions may be subject to an additional fee)
Your website is often the first way that your clients and prospects learn about your brand, so it has to work hard — making a visual impression, loading quickly and helping users find the content they seek — ultimately driving engagement and conversions.
Starting from scratch or modifying an existing site, our expertise gives you the results you're looking for. We spend time understanding your brand, your look, your ideas and what your end goal is. We understand your needs aren't the same as the next person's and know how to improve or design your site accordingly. Your website can be built for customer engagement, customer retention, product highlights, portfolios, sales leads, promotion and so much more.
We build a detailed launch plan that plans out each step in the process and who is responsible for that step. This approach minimizes the chances that an unexpected event will occur and disrupt the process.
Our team is in tune with what your brand and your audience needs, collaborating every step of the way, from initial brainstorms through testing on multiple browsers, phones and tablets. Features and functionality are always considered from user experience, visual and development perspectives.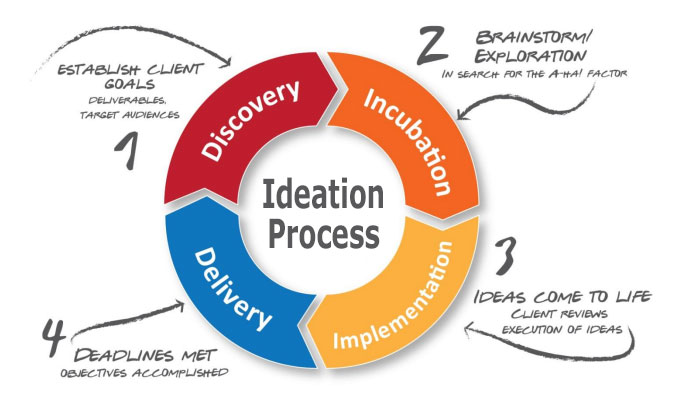 We approach every custom-manufactured website project with real-world insights and data-driven analysis to ensure smooth user experience and an unfettered customer journey.
The Timeline
Discovery — We spend time with you discussing what your needs might be and how we can help you and your business. These conversations are open, collaborative and considerate.
Plan/Set Expectations — We review what we learned during the Discovery phase to set a plan for you that meets your budget, offers you all the capabilities you're seeking and explains it in a very clear manner.
Produce/Deliver — Allegra begins your project, with regular updates to you, and ongoing communication in regard to status of the project and regular reviews to keep you apprised of timeline. When we deliver your site, marketing plan, etc. to you, we review it with you in person to cover any and all questions and give you the tools you need to move forward with what we've created for you.
Evaluate — Our work isn't done when we deliver. We collaborate to monitor notable KPIs (Key Performance Indicators) of your website and/or other initiatives to ensure you're receiving optimal ROI. This includes setting quarterly, bi-annually or yearly business reviews to be certain we are providing you with top level marketing support.
Adjust — Once we've evaluated, we adjust the necessary components to keep your website (and marketing) at optimal performance.
Amplify — As necessary, we will increase additional efforts and/or suggest initiatives that will supplement the existing plan and website. A solid process ensures your website is fast-loading, secure and reliable.
Repeat — We continue to evaluate, adjust and amplify to keep your experience positive and increase your ROI throughout the tenure of the working relationship.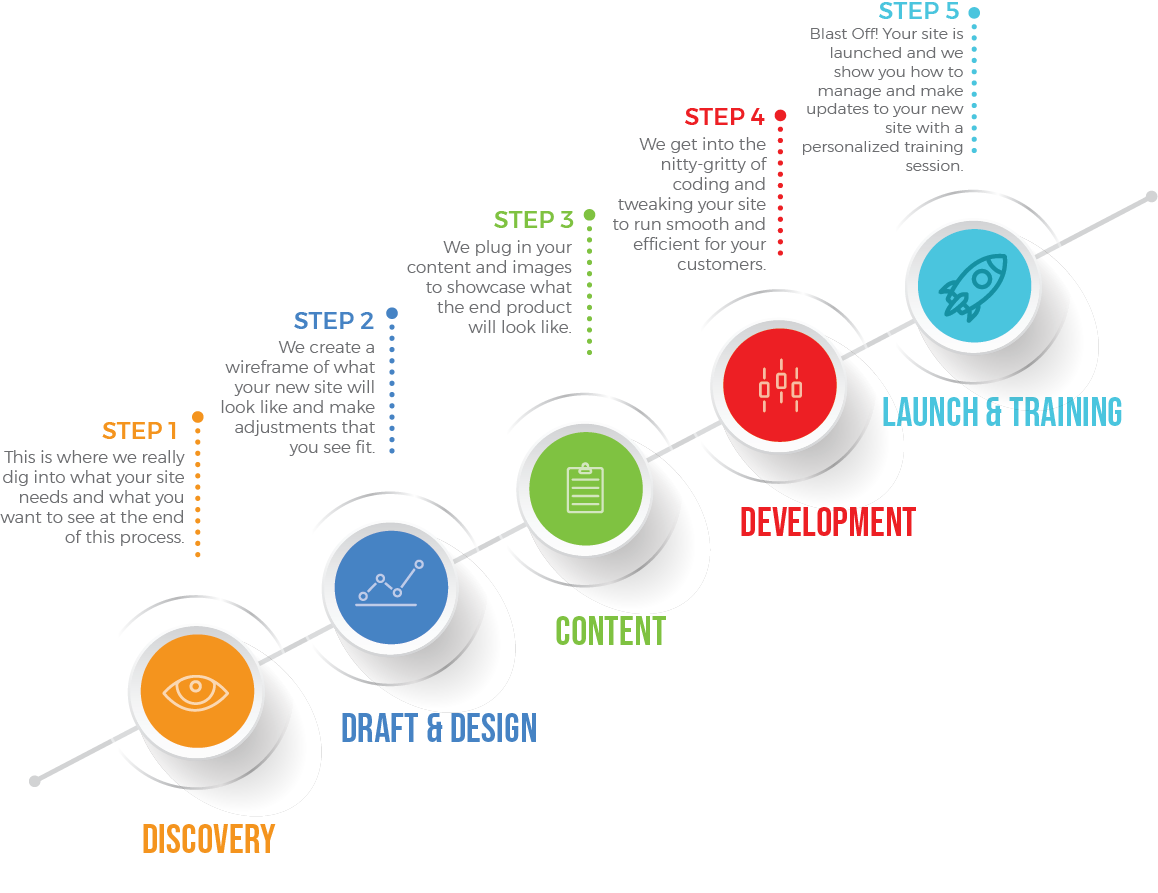 What You Get
Consultation/client meetings as required

Integrate your new logo into the site design

Create an appropriate layout and color palette

Build the site with a clean, professional look with future expansion in mind

Use a Responsive design, so pages will automatically re-size and re-format to fit any size device

Implement user-friendly, consistent navigation throughout (very important)

Design a proposed home page and post it online at a private address for your review

Based on your feedback, modify or redesign the proposed home page as needed and resubmit to you

After your home page approval, we'd build the remaining pages

Include prominent links to your social media pages (Facebook, LinkedIn, etc.)


Basic Search Engine Optimization (SEO). We will write compelling page titles and descriptions for SEO purposes

Optimize image file sizes for faster downloading

One online form (Contact)

Up to one-half hour of client revisions after pages are built

Submit site maps to Google (for SEO purposes)

Register the site on Google Places


Install Google Analytics so we can track site activity

Test site and tweak as needed; upload to site host and retest live system
SSL Certificate & Installation
Not required, but highly recommended.
​What is an SSL and why do I need it? The core function of an SSL certificate is to protect website-client communication. On installing SSL, every bit of information is encrypted. SSLs keep your website safe, improve customer trust, keep information secure, and boost your search rankings with Google.
Search Engine Optimization
SEO Setup, Reporting & Analysis
Getting your site found on Google and other search engines can be like finding a needle in a haystack. Fortunately, we have the tools to do just that!
Search Engine Optimization (SEO) is an extremely important part of a high performing website. It does no good to build a great website that nobody can find. We can help. We're specialists in SEO, a process to improve your rankings on the major search engines. A significant portion of your site's traffic probably comes through search engines, and we can help increase the number and quality of your visitors.
Search engines (Google, Yahoo, Bing, etc.) are scanning the internet for sites with the right words sprinkled throughout their content — whether on homepages, image captions, or even tucked away in the back-end of the content management system. The more optimized your site is, the more likely you'll come out on top. Literally.
Search Engine Optimization is a set of methods aimed at improving the number and quality of visitors to your website from "organic" (free) search engine listings. Since research shows over 90% of searchers click on these organic listings rather than paid advertising, you need to be listed high on Google's first page.
Search Engine Optimization is powerful advertising for your site and is different from SEM or Search Engine Marketing. It requires expertise, experience and a thorough understanding of the goods and services you provide and how potential customers will find your site rather than your competitor's.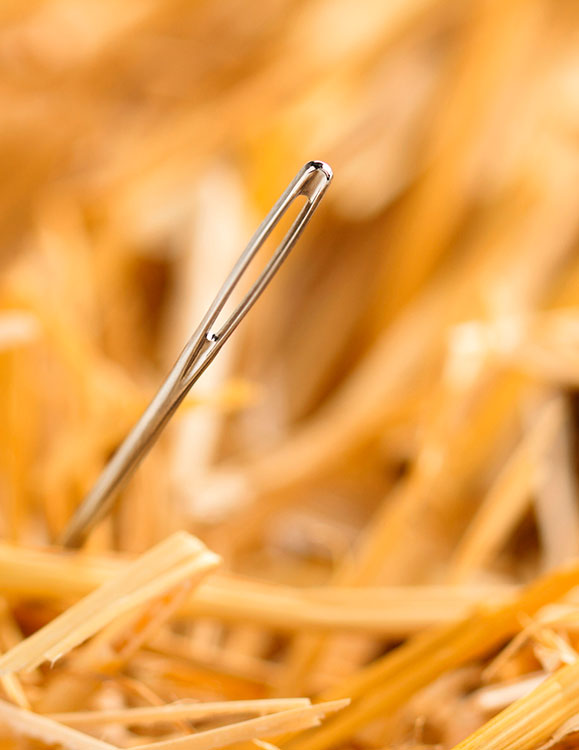 ClaimLocal
If you want people to find your business online, you need to be listed in all of the places they search.
The more places you are listed and the more accurate those listings are, the more opportunities you have to be found.
ClaimLOCAL puts your name on over 70 local search and listing directories, including Google My Business, Facebook, Bing and more! It's automated, so you don't have to spend days doing in manually.
You can take control of your market online and lock in your listing if they are consistent across the listing services.
Check and see how accurate your listings are by performing a scan of your listings for free.
What You Get
On-page and meta content updates
Page speed and performance issues
URL and Information Architecture (IA) review
Relevant, branded content for your users
Keyword research
Competitor analysis
On-site optimization
Content density and duplication
Landing page development
Content strategy and planning
SEO Setup
(one-time fee, covers 3 months of services)
Reporting & Analysis
(monthly fee; includes ClaimLocal)
Social Media Consultation
We understand there is no one-size-fits-all strategy. We coach alongside you for up to 2 hours to provide you with training, a written social strategy, and ideas to boost your social media presence.
Social Media Management
(monthly fee)
Develop Brand Awareness (Followers): Our social media marketing services will help you increase your followers with relevant people.
Build Relationships (Engagement): We will help you increase engagement (likes, comments, etc.) on your social media posts. The more engagement you have, the stronger your connection is with your audience. You will receive 10 posts per month handcrafted by our specialists. If you would like additional posts, negotiations are available.
Increasing Website Exposure (Traffic): We will focus on developing social media free advertising campaigns that drive high volumes of traffic to your website.
Paid Advertisements Setup Fee
(one-time fee)
Paid Advertisements
(monthly fee)
Paid Social Media Ad Management & Execution
For a flat rate, Allegra will manage and execute paid social media ads on your behalf. We will spend what YOU want to pay while giving recommendations along the way.
We spend your advertising dollars wisely: Social media advertising is the most cost-effective form of advertising available today. On average, you can spend $5 and reach 1,000 people. In comparison to traditional media, our social media advertising services are 3x less costly.
Advertise to your exact demographic: Run laser-targeted advertisements to people based on their interests and online behaviors. We can target specific ages, locations, income levels, and much more!
Sport Tek Performance Polo
Sport Tek Performance 1/4 Zip
North Face Performance 1/4 Zip
Port Authority Softshell Jacket
North Face Softshell Jacket
Digitizing Logo for Embroidery